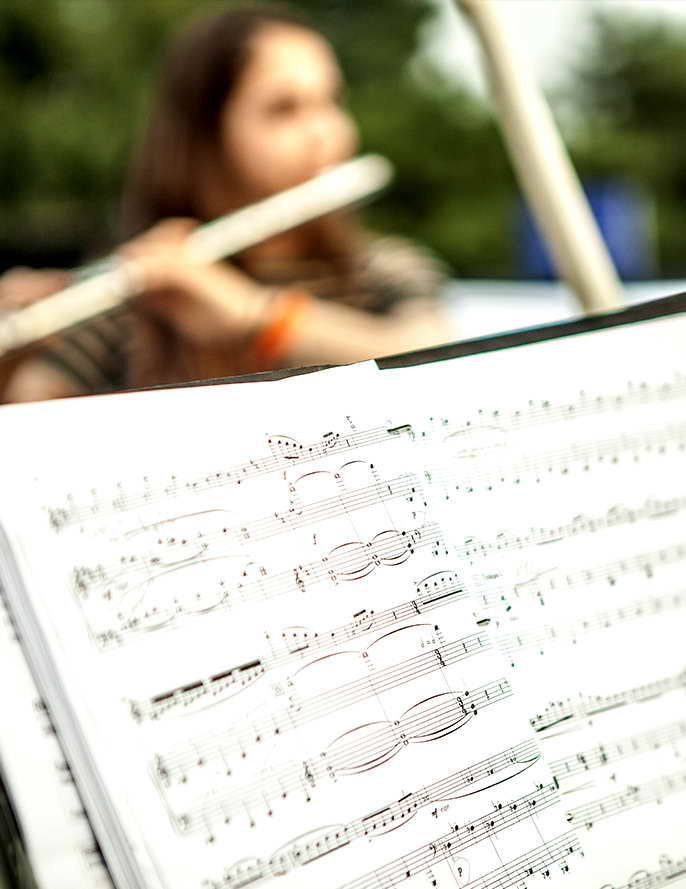 Our professional course system bases itself on the global music stage to distill the essence of global music courses. A bilingual teaching is implemented to help students develop their international vision and acquire specialized English about music, by doing which we can help them to adapt to foreign musical teaching environment in advance. Our initiative and forward-looking course system will lay a solid foundation for the admission of students into universities both at home and abroad as well as fertile soil for nurturing their individuality and creativity in their music career.
● Integrated Course Setting
Different courses are inter-linked and inter-connected rather than isolative from one another, which is a kind of integrated course setting and also a spotlight in our specialized course system. Under the guidance of many experienced and specialized course teachers, the integrated course setting will entitle students with an easier approach to music composition and works, making them understand and perform the music works from the perspective of the composers and conductors. As a result, music theory and music itself can be connected more closely and the students learning dilemma can be solved.
● Intensive Readingon Music Scores
In the teaching of courses like Music Theory, Composition, Conducting, Harmony, Work Analysis, Introduction and Appreciation of Western Music, we will make the students study more specifically and effectively through intensive reading on the score. Through reading the score intensively, the students will find more useful content and grasp meaning in the music score, and a space featured by new choices and personalities will be created for their performance.
● Graded Teaching
Our school fully respects the uniqueness of each student. We will adopt graded teaching approach to select the most suitable teachers, teaching content and teaching method for each student according to their personalities and professional level, making it possible for students of varied degrees to improve and surpass themselves. We aim to overcome the disadvantages of tradition all classes and truly formulate elite and customized education.
Now the Central Conservatory Preparatory School sets up and offers 11 different compulsory courses and elective courses for all majors:
1. Major Courses (for students from Grade10-12)
Specialized courses are taught in a one-to-one teaching approach by musicians and teachers with an abundant experience in teaching and stage performance. Therefore, high-quality and effective teaching can be guaranteed.
The Majors Include:
(1) Instrumental Music Playing
Instrumental Music Playing emphasizes on the basic expression of playing, the improvement of musical sense and the skills of solo and ensemble performance. It also focuses on the mastery and application of different music schools and music styles. The major courses are taught one to one (the specialized course teacher and the student); or two to one (the specialized course teacher, the piano art director and the student); or one to many (the chamber music tutor and the ensemble) in the chamber music training form, etc.
String (violin,viola, cello, double bass)
Woodwind (flute,oboe, clarinet, barson, saxophone)
Copper tubes (horn,trumpet, second tone, trombone, large size)
Percussion (westernpercussion instrument)
The piano
The harp
The classicalguitar
(2) Vocal Music
Guided by the principle of better training of the specialized talents of vocal music that could meet the international professional music market, the CCPS has established a unique vocal music basic curriculum. The training system and curriculum are as follows: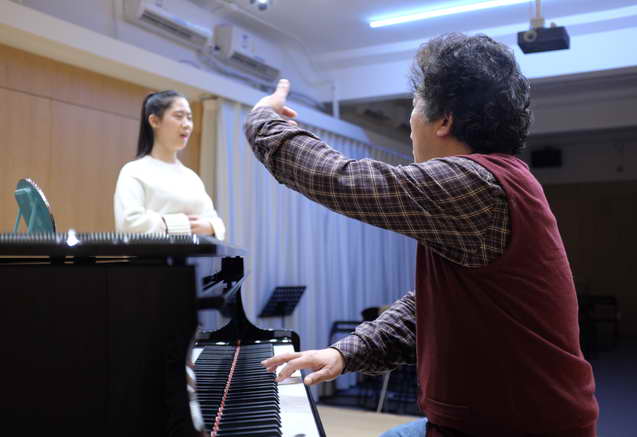 Training system:

1. Vocal basic skills training
To help students build a simple, effective and lasting basic system of skills, so that they can learn and appreciate the non-imitative voice of their own.



2. Basic vocal music training
Basic vocal music training provides help for students to learn to speak before they can sing well. In light of the great proportion of Italian, German and French use in the vocal music works performed on the mainstream International theatres and concert halls, the basic training of the above three languages is very important among the students singing languages. Italian pronunciation is a compulsory course.



3. Study on basic vocal music works
Due to the vocal music's particularity, a basic specification in singing cannot be achieved without professional guidance of a vocal music art director when any vocal music works of different languages are learned. For instance, if a singer is perfect in voice and technique, while having blurred words and weird intonation (for example, in the tone of his or her domestic language) in his or her performance, the glamour of the performance will fade greatly and fail to attain a certain specification.




Vocal music art direction plays the most important role in successfully cultivating students meeting the international standards. Although there is insufficient vocal music art directors in the profession, while the CCPS has hired relevant professional teachers to help training the students. The vocal training theory of the directors, undoubtedly, will offer a great help for the students to master the musical singing.






Course Setting:
I. Vocal music group class
At the end of the month, students majoring in Vocal Music will give a formal performance. The singers will be properly dressed when conducting the performance.
II. Art direction class
1. Italianpronunciation and Italian songs
2. Germanpronunciation and German songs
3. Englishpronunciation and English songs
4. Art direction(one-to-one teaching)
(3) Composition
The teaching model of our composition major is to help the students master the basic composing techniques and inspire the students' imagination and creativity with the purpose to cultivate professional composers. In addition, we set up many basic music theory courses like Harmonology, Analysis of Musical Form and Works, Polyphony, Orchestral Techniques, Modern Music Creation Techniques for students to lay a solid foundation for students to gain further education of professional music colleges. All the students must complete a piano suite, two vocal music works and one small-scale chamber music work to meet the basic application requirements of foreign music colleges.
(4) Conducting
Our conducting major aims to foster conductors, organizers and leaders of group music performances, including opera, symphony, chorus, etc. As sophisticated talents in the music area, our future-conductors enjoy unique training models: in every single major class, each student has three teachers; other specialized lessons are arranged based on conductor majors are Score Reading, Advanced Solfeggio, Double Piano Symphony, Chorus, Band Training, Harmony, Polyphony, Works Analysis, Orchestration and Modern Works Analysis.
2. Piano Minor (for preppies and students in Grade 10-12)
Learning piano is the best approach to know music works; hence every student in CCPS is required to learn piano playing. This course is targeted to help students of other non-piano majors to cultivate their musicianship and gain a rather comprehensive understanding of the artistic value and anesthetic performance of music.
3.Music Theory (for preppies of high school, students of Grade10)
Putting theory into practice in performing, CCPS enables students to grasp the overall structure of music theory that based on their performing practice.
Books relating to Music Theory for reference:
1)Norton Anthology Western Music, the seventh edition.

2)The Complete Musician, the second edition.
Steven Laitz
3)Music Theory in Practice G1-8
4)The AB guide to Music Theory Part I
Eric Taylor
5)Practical Beginning Theory, the eighth edition.
Bruce Benward
Barbara Garvey Jackson
BruceR.Jackson
4. Composition (for preppies of high school, students in Grade 11)
Personalized composition course courages students to increase the expressiveness in their music, have a command of the traditional and modern composing techniques and music style, home and abroad, in a more systematic, comprehensive and skillful manner, thus creating a better space for the development of students' artistic character and creativity.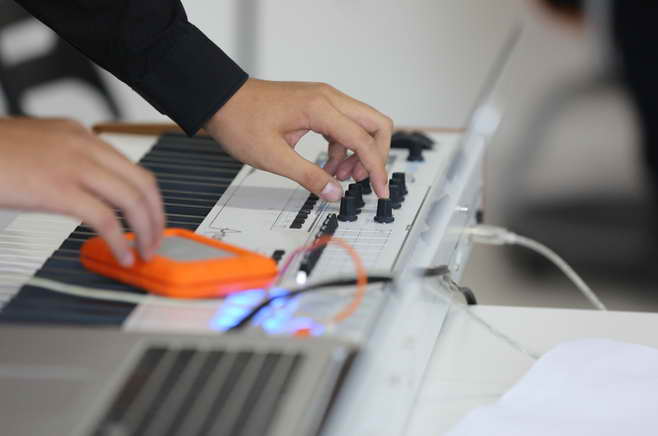 5.Conducting (forstudents in Grade 11 and 12)
In this course, we hope students know how to analyze music pieces and read music scores on the basis of fundamental command of conducting skills. This course aims at fostering students 'consciousness and ability to read music works from the perspective of conductor in the practice of composing and music writing.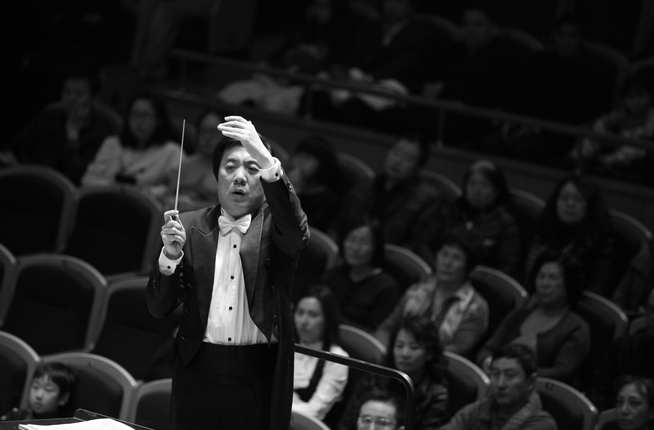 6.Introduction and Appreciation to Western Music (Grade10)
Tune music as the main analysis work, combined with intensive reading scores and the history of western music, analyses musical works to cultivate academic writing ability.
Books related to Introduction and Appreciation to Western Music for reference:
1)Listening to Music, the fifth edition: Craig Wright
2) Listening to Music- Music Appreciation Course, the sixth edition
Roger Kamien
3) A Manual for Brief History of Western Music:Yu Zhigang
4)The Cambridge Illustrated Guide of Music: Stanley Sadie and Alison Latham
5)History of Music: John Bailie
6)The Story of Music: S.Turnpike
7.Listening and tempo training(for preppies of high school, students in Grade10-12) Books related to listening and tempo training for reference:
1)Specimen AuralTests G1-8
2)Tempo and MusicLiteracy Training Course: Zhao Yishan
3) Solfeggio (Two Volumes): Xiong Keyan
8. Sight-singing and sight-reading (for preppies of high school, students of Grade10-12)
Books relating to sight-singing and sight-reading for reference:
1)Specimen Sight-Singing Tests G1-8 (sight-singing training)
2)Joining the DotsG1-8 (piano sight-reading training)
3)High-quality Sight-singing Courses(Three volumes)
Zhao Yishan & Fu Ni
4) National Basic Sight-singing Courses
Zhao Yishan &FuNi
(The book is attaining version of the French sight-singing chorus)
5) Music for Sight Singing
Robert W.Ottman and Nancy Rogers
Translated and edited by ZhaoYishan
7) Solfeggio Practice and Training
(Sight-singing practice)
Teaching and research office of composition school of Shenyang Conservatory of Music
8) Improve Your Sight-reading G1-8
Paul Harris (piano sight-reading training)
9. Harmony and analysis of works (for students in Grade 11)
We offer courses of analyzing music works using both parts of the scores to help our students to fully recognize the practical use of vocal knowledge in composition and encourage them to analyze music works, to write a dissertation with music theories and delve into the composers' concept.
Books relating to harmony and analysis of works for reference:
1)351 Examples of Harmony Analysis Wu Shikai
2)Harmony in Practice Anna Butterworth
3) Examples of Musical Form and Composition Analysis
Teaching and research office of music works analysis in Central Conservatory of Music
10.Performance review
Performance reviews a special course of CCPS. It is taught personally by one founder of CCPS, the famous violinist and conductor, Chai Liang. He will lead the students to explore the essence music performance.
The course incorporates the form of research, discussion and music performance of great practical use. It can stimulate students' creativity and enhance their ability of appreciating music and criticizing music academic works as well as elevating their music quality. Meanwhile, it will also enable students to show their music styles and skills and grasp the basic theories and skills of music performing. Through interdisciplinary learning, students majoring in instrumental music and those majoring in vocal music are able to learn from each other and get to know the traits in each performing form. In the process of music performing, they get the hang of every skill in music performing, soas to attain the capacity of displaying music works in different forms and styles, and finally form their unique performing style by perfectly integrating their excellent performing skills into music performance.
11. AP Music Theory(Elective course for students of Grade 11)
As a school in Chinese Mainland, CCPS has registered for course and obtained the authority to give exams from the College Board. Through the opening of AP Music Theory course, we can have a better opportunity to establish reliable international cooperation with schools, and to create a favorable environment for communication between music education institutions, to enhance the training and understanding of excellent music majors.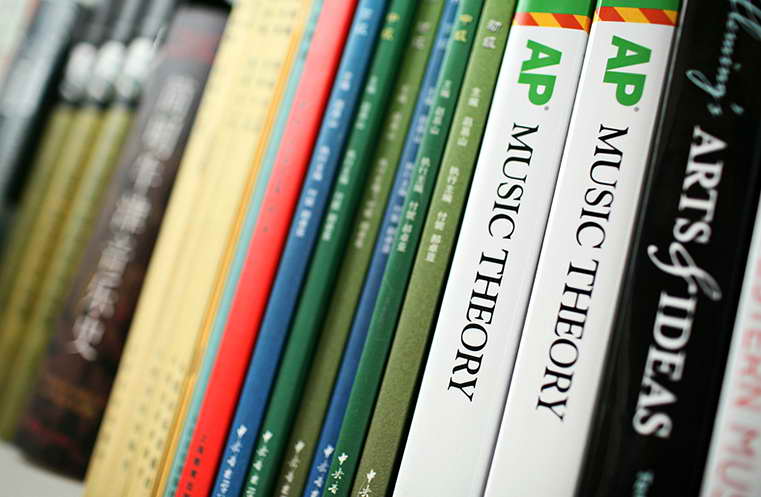 Books relating to AP Music Theory for reference:

1) Tonal Harmony andOverview of Music in 20th Century The sixth edition, Stefan kustka, DorothyPayne
2) Barron's APMusic Theory, Scoggin, Nancy
The combination of music playing and learning is a necessary process for music majors in their road to professional musicians. In addition, we have set up an end-of-month concert course. The course enables students to have a more systematic and comprehensive understanding of music performance involving them in all aspects of the performance. At the same time, students are trained to be competent in more ways of music. Through students 'participation in preparation, playing, listening, and evaluating monthly concerts, and the course familiarizes students with all aspects of music performance and thus prepare our students for their future music performance.