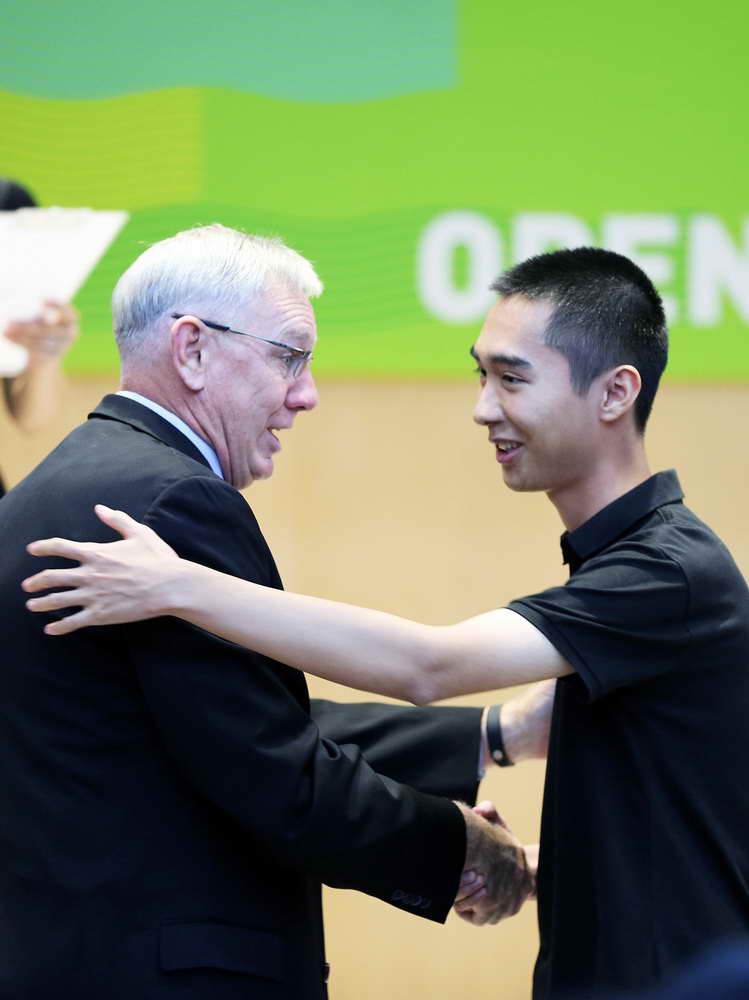 CCPS Enrollment Day | All dreams come true with you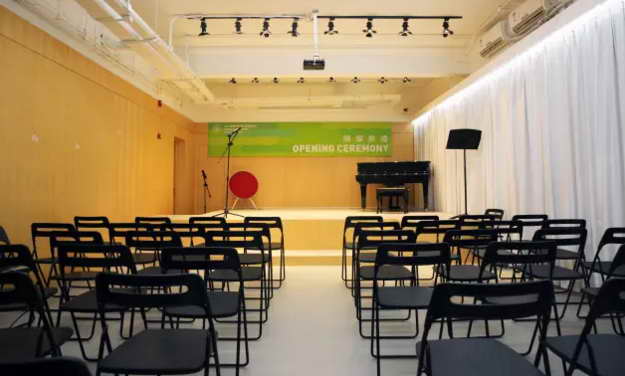 In the Central Conservatory Preparatory School, everyone needs to read a lot of books in the library to gain knowledge of music. They need to have exchanges between teachers and student as they practice their instruments in the silent piano rooms, and sway youths with like-minded partners, gaining friendships and moving forward closer to their academic and musical goal.

Choosing this professional music school helps connect the world stage and your dreams with music, it meansthat you are not only choosing to be a top musician but are also creating amore diversified path in other areas as well.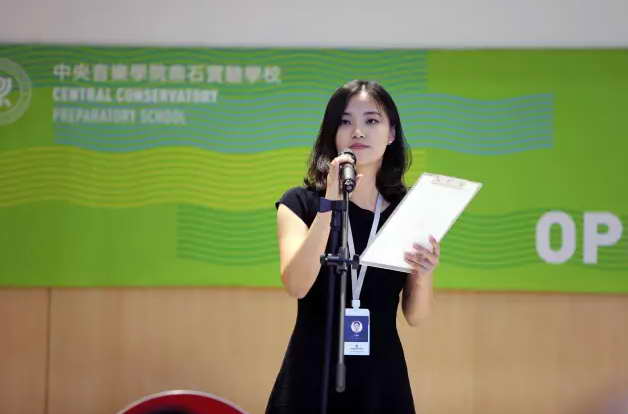 ▲Host of the Opening Ceremony –Director of the admission department in Central Conservatory Preparatory School
At 9:00am on September 4, we celebrated the 2017-2018 school year opening ceremony of CCPS. People in the ceremony included Mr.Guo Yonga founder of CCPS and school manager, Mr. Chai Liang also a founder and music director, Mr. Xi Min the executive school manager, Mr. Brubaker the Director of the International Department to the United States, Dr. Cong Xinzhu the vice director of music, teacher Dai Zhonghui, a famous trumpeter, teacher Fan Tao a National first-grade conductor and the permanent conductor of the China Radio Film and Symphony Orchestra, teacher Tong Huiayoung pianist, the associate professor ofthe Piano Department of Central Conservatory of Music and a member of National Piano Examination Committee, as well as all the teachers and student and some of their parents, all witnessing the beginning of a new term together.
In the guest speeches, you could hear the sincere, profound and warm sentences in their words.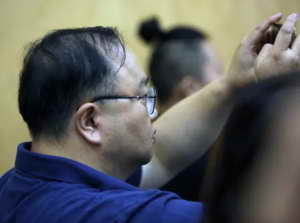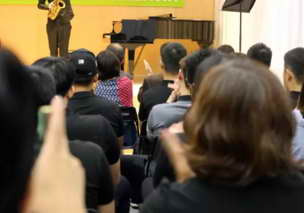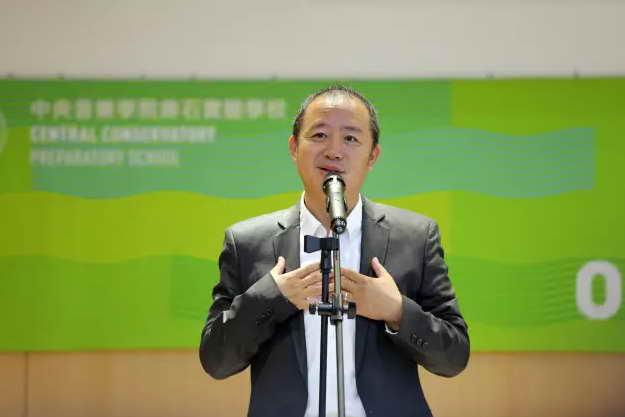 ▲GuoYong, a founder of CCPS and a school manager
▲Dr. Cong Xinzhu, the vice director of music
Mr. Guo Yong, a school manager, warns everyone: "This is a new beginning and our initial starting point, and we shall not forget our true self and shall be our best self."
Dr. Cong Xinchu, thevice director of music, commands: "Follow the school's curriculum system andlearn solidly. To be a musician, physical safety is particularly important."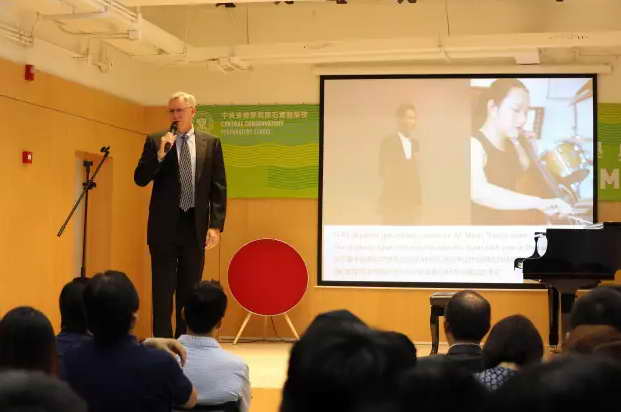 ▲David Brubaker, theDirector of the International Department of CCPS to the United States, delightedly told everyone that in the AP Music Theory exam of this year, Wei Siranin music composition majorreceived 5 points and Chen Yun Fan in cello major scored 4 points.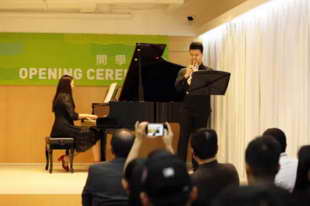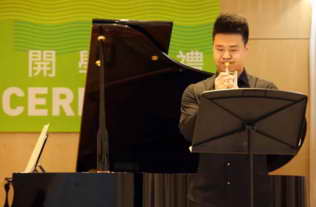 ▲The play ofThe Bride of the Wavesby Zhang Tao Yangand Cui Zi Qian
Just this past summervacation, we successfully held the fourth International Chamber Music Festivalof CCPS. Music students from many provinces and cities in the country came tothe Imperial Ancestral Templein the Forbidden City in Beijing to stage a grand Chamber music concert for audiences in Beijing. Later, some students also wentto the Czech Republic to attend the 23rd Ameropa International Music Festivalin Prague.
Everyone has spent anextraordinary holiday, including Zhang Tao Yang in the 2ndgrade. He participated in the trumpet show of the 7th International Trumpet Art Week of the Shenzhen Symphony Orchestra in 2017 and won the Gold Medal of the High Schools. He played The Bride of the Waves for us with his piano accompaniment Cui Zi Qian during the opening ceremony.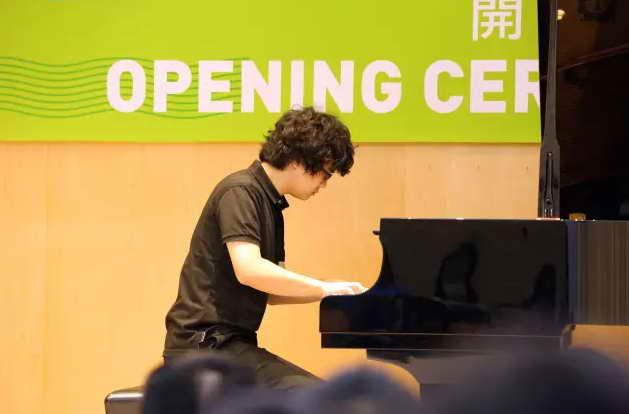 ▲The play of Beethoven's Piano Sonata No. 11 by Li Cheng Bin from South Korea
Li Cheng Bin from South Korea aspires to be a good pianist. Prior to that, he was anorchestra conductor and also wrote his own work. In 2013, he was only 11 years old but performed onthe piano at the National Art Center of Korea. He won the national piano competition finals and was selected as "A Genius Boy in Music Composition and Piano" by the Korean National Arts Center. His Beethoven Piano Sonata #11 atthe opening ceremony won bursts of applause.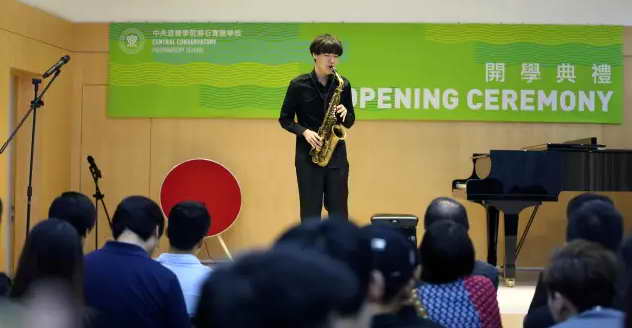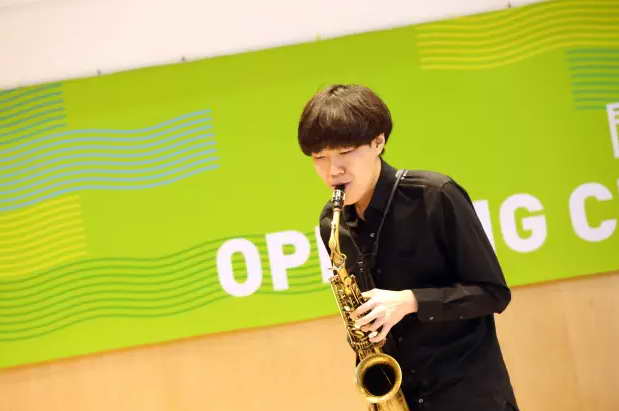 ▲Yu Liang《Hide away》

▲Speaking on behalf ofFreshmen
The freshman Yang GanYi just finished her junior high school study in the UK recently. She lovesmusic, but did not find the right professional music school in the UK.Therefore, she returned home and came to CCPSto prepare to enter her professional music learning path.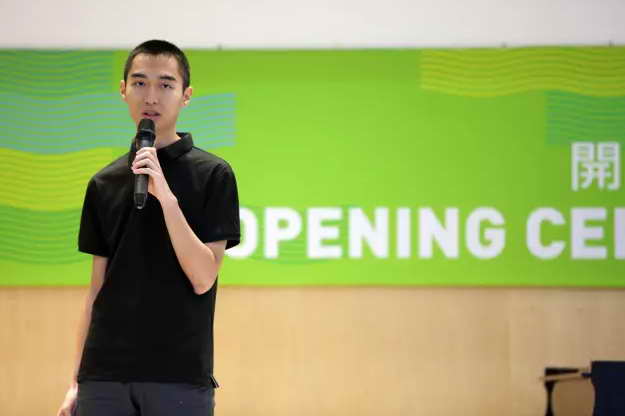 ▲Speaking on behalf of seniors
Yang Yi Da in the senior grade just won the 2017 Jin Bao's third International Music Festival Percussion Arts Festival with a Bronze Medal.Recalling the time when justentering school, he said: "When I entered school, my way of practicing music andmusic theories was a mess. I could not understand music at all, but with the patient assistance of the teachers in Central Conservatory Preparatory School, I begin to study systematically. Only by doing so, could I go further."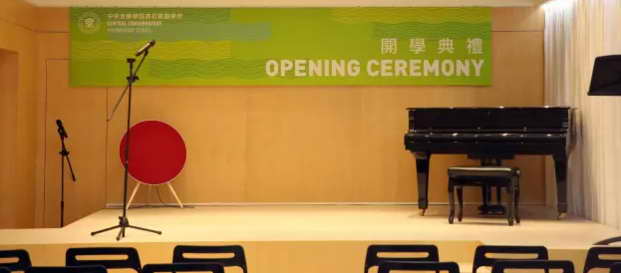 The 2017 graduate GuoBao Jun said at the time of graduation: "Goodbye, my home, Central Conservatory Preparatory School."
Indeed, in the hearts of many alumni, the three years studying at CCPS are their best years. It is so beautiful, residing in the center of memories, and thus unforgettable.
Starting today, every teacher at CCPS will witness the growth and progress of all of you and we wouldlike every one of you to be able to step into the hall of music and realize your own musical dream!