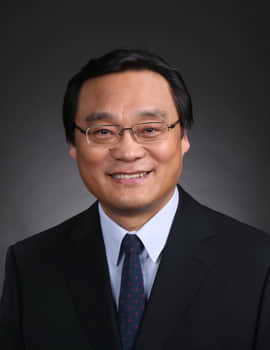 Dai Zhonghui | Trumpet Teacher
Dai Zhonghui, a famous trumpet player, conductor and international competition judge, is now the associated professor of ASBE of Chinese Musicians 'Association, a member of International Trumpet Guild, the president of China Trumpet Guild, a professor of the United States Philadelphia Wind Band expert class, a professor of the United States Michigan GVSU expert class and Central Conservatory of Music.

He has showed himself working actively on stages at home, abroad and has held many solo concerts since the 1990s. Many well-known music magazines such as PIPERS interviewed and reported about his performances for many articles. He has published many constructive academic theses in authoritative music publications, such as the famous magazine BRASSBULLETIN. He has also recorded many personal albums.
From 2005 to 2008, he was the judge for the International Trumpet Guild Solo Competition. In 2007 and 2012, he was invited to Thailand to serve as the judge of the Wind Band Competition. In 2008, he went to South Korea's Jeju to be a judge for the International Trumpet Competition. In 2009, he was invited to serve as the judge of the 27thHungary International Trumpet Competition and National Golden Bell Awards successively. In August2010, he served as the judge of Tokyo, Japan International Trumpet Competition. In March 2011, he published two solo records "Music and Skills" and "Rhyme and Melody" through China Record Corporation and trumpet teaching video. During2012 to 2015, he served as the judge of National Small Golden Bell Awards. In2012, his undergraduate student Chai Lin won the first price for the International Trumpet Guild Solo Competition, he was the first Chinese to win the prize. In 2013, Chen Jiawei, from the Secondary School sister school to the Central Conservatory of Music, won the first prize of International Trumpet Solo Competition. (under 14 years old)