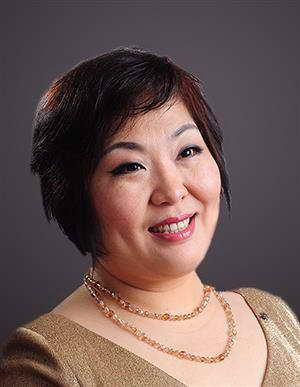 Yang Guang | Visiting Tutor
Ms. Yang Guang received the attention ofwestern classic vocal circle with the only award of the Cardiff InternationalSinger Contest in 1997 and the first prize of the Domingo World Opera SingerCompetition in 2001. She graduated successively from theChina CentralConservatory of Music and the Opera Center of Juilliard School. Starting fromthe Youth Artist Training Center of Lyric Opera of Chicago, America, Ms. YangGuang stepped into the main opera stage in the world, playing the major role ofmezzo-soprano of many famous operas. The roles she has played are: Annailisi inItaly opera Ayida, Abeny in Don Carlo, Santuza in Cavalleria Rusticana, Finina in Nabucco, Azulina in Troubadour, Adalgisa inNorma,Carmen in the French opera Carmen,Dahila in Sansong and Dahila, WalterRhodes in Gotterdammerung and Orthurdin Lohengrin. Among which, Annailisiin Italy opera Ayida, Santuza in Cavalleria Rusticana and Adalgisa inNorma have become her representativeroles in international opera stages. Recently, she played a role of Felena in Nabucco made by Beijing National GrandTheatre, Master Domingo acting the leading role.
Except for playing opera, Ms. Yang Guangalso conducts performance in the concerts and cooperates with many internationalsymphony orchestras and conductors. She served as the mezzo-soprano solo andthe sing lead of Verdi's Requiem, themezzo-soprano solo and the singing lead of Mahler's C Minor Second Symphonyand SymphonyNo.8 in E Flat Major. She played EarthMelody, Siddhartha and Kindertotenlieder of Mahler, Faust's Trial of Berlioz and song cycle,and the Summer Night.